Get in touch with us for information on any of our projects and for ideas on how we can help you with yours.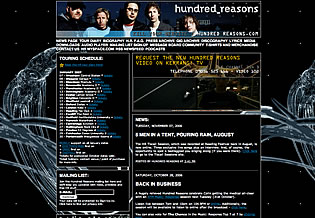 Hundred Reasons
Site URL:
www.hundredreasons.com
Date of work:
26/1/05
Client:
Hundred Reasons
Type of site:
Music
Our Role:
Website design and production
Hundred Reasons were dropped from their Columbia Records deal sometime in 2003 and when the band planned their next manoeuvres, they asked us to get involved. Having no budget to work with, we funded the work and hosted the website until they were picked up by V2 Records in the autumn of 2005.
We started the site with a blog page and messageboard, then expanded it with more content as we went along. We built a content management system for the discography and lyrics section and set up a datacapture system for free MP3 and video downloads which we've integrated into V2's mailing list set-up. There is also a messageboard for the fans to chat in.
Several members of the band get involved in updating the site and chatting with fans over the messageboard.