We're always available and ready to help you out. Even if it's just a simple question, we'd like to hear from you. When's the right time to set yourself up with a custom internet presence? Gosh, if you haven't done so already, what are you waiting for?
"You seem to mostly do music stuff and that's nothing to do with my business."
That doesn't bother us. Our approach to online stuff can equally be applied to many business types and individuals.
"It's too expensive"
Some online solutions are, sure. But it doesn't have to be. If you are starting out, it's sensible to start out small. Solutions can be produced to be scalable so that you can grow as you learn what it's all about. Start small, aim high. retain control.
"My business is too small to need a web site."
You might feel that is the case but the way that you see yourself and how others see you can be two different things. We can advise you on how an online presence can elevate your customers' impression of your business.
"I don't know anything about all this internet stuff."
That's why we are here, to guide and help you.
"We don't need it."
We're not going to go out of our way to convince anyone to do something that they don't want to do but when you're ready for advice on how having a web site can benefit your business, just let us know.
Whatever's holding you from joining our world, we'd love to hear from you. Your solution might be simpler than you think!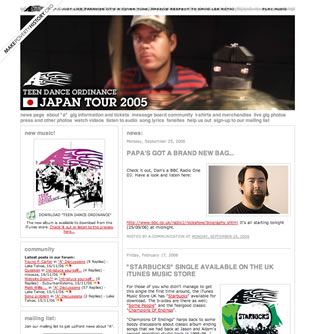 A-Communication 2005
Site URL:
www.a-communication.com
Date of work:
25/7/05
Client:
"A"
Type of site:
Music
Our Role:
Website design and production
A-Communication is the website for the London, UK based rock band "A". In this instance, this is for the website that we built for the promotion of their final album "Teen Dance Ordinance.
We've handled all their websites since their early days, way back in 1995. Of course the first sites were pretty rudimentary, as was the internet, but we've steadily moved it on since then making small improvements along the way.
There were some pretty basic websites made for the first 2 albums, "How Ace Are Buildings" and "Monkey Kong" but we made a Flash based site for their breakthrough album "Hi-fi Serious in 2001. With the delay in release of their final 4th album we stripped it all down to a simple blog-based site.
Since the early days, this website has always been about it's community and the "A" forum has always been the lynchpin for the fans. Since 2001, we've been using a nifty datacapture system for all our downloads and as a result we've built them a massive mailing list.
The band members have now gone their separate ways but we still get involved in some of their individual projects from time to time.
The site is now closed. If you are after "A" merchandise, this site is still selling some stuff:
www.toughshed.com