The internet is a pretty big part of our working lives these days. We use the internet often to get information about things that we are interested in. We use it to communicate with each other. We use it to entertain ourselves. We love it.
How do we describe ourselves?
That's a tricky one...
5 years ago, we'd say that we were web site designers for rock bands. Today the lines are a little more blurry.
We're not the only ones out there wanting to give people a glimpse of how to find a better way of working but we think that over the years, we've come up with some pretty cool solutions for our clients and friends. We've also got many more friends now and they aren't necessarily in rock bands.
Online technology improves constantly and people adopt it for their own uses. We like to help people do what they want to do and offer them online solutions to get them on their way.
Mostly we do what we do because we love it...
Internet Producers?
Maybe that's a little better.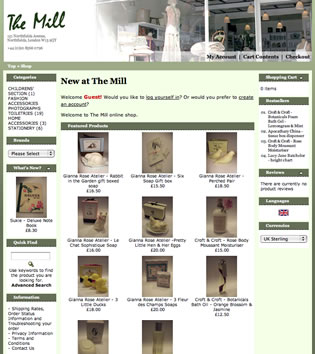 The Mill
Site URL:
www.themill151.com
Date of work:
15/6/07
Client:
The Mill
Type of site:
Online Retail
Our Role:
Implementing shop and payment system
The Mill is a small local shop in Northfields, West London selling home furnishings, toiletries and furniture.
We set up their online shop to compliment their retail store and advised them through the whole project.
The shop is currently undergoing a soft launch so feel free to give it a visit and put it through it's paces.